When APL Window Solutions contacted our offices regarding dangerous goods storage for their facility, we were extremely enthusiastic to begin the process of assessing their needs.
It all starts with us finding out who our client is, and in this case, APL are the leaders in aluminium window and door systems and are the parent company of New Zealand's popular window brands Altherm Window Systems, First Windows and Doors and Vantage Windows and Doors.
Their health and safety team set out the brief for us to supply a range of products to suit their needs including cabinets, work floor systems, bins, and spill kits.
With APL being proud of their pioneering and innovative ways, we knew we had to deliver more than an "off the shelf" solution. We were also mindful of providing an environmentally sound solution to ensure that not only their staff remain safe at all times, but that their surrounding environment is well taken of.
Our team pulled together a combination of products to satisfy all of the criteria and provide a solution that was anything but ordinary.
One such item was the safety shower with eye and face wash facilities. Pictured below, the shower was custom mounted to a spill pallet, along with being plumbed in to meet work health and safety standards. Not only does the shower provide an area for decontamination, it is also aesthetically pleasing, and works well in the area.
But what about the dangerous goods storage? Well, we went with a combination of SureSafe Flammable Goods and Corrosive Goods Cabinets. Ranging in size from 160L to 250L these cabinets provide a central and safe location for the dangerous goods and chemicals to be housed.
To ensure the cabinets are providing the safest possible storage, we also utilised poly workfloor systems. These provide a platform for the dangerous goods to be stored on, away from the concrete floor of the factory. Thus, providing protection to the work surfaces and ensuring that should the cabinets or drums of chemicals be required to be moved their platforms can go with them. This means that the ground below will be protected and that any foot traffic or machinery does not have to worry about any dangerous chemical spills or damage from corrosive substances.
And finally, as part of the fitout we provided APL with an aggressive chemicals spill kit. This kit was chosen due to the substances used in the powder coating process.
The team at APL are happy to have their new kit complete and installed and will be back should their needs expand.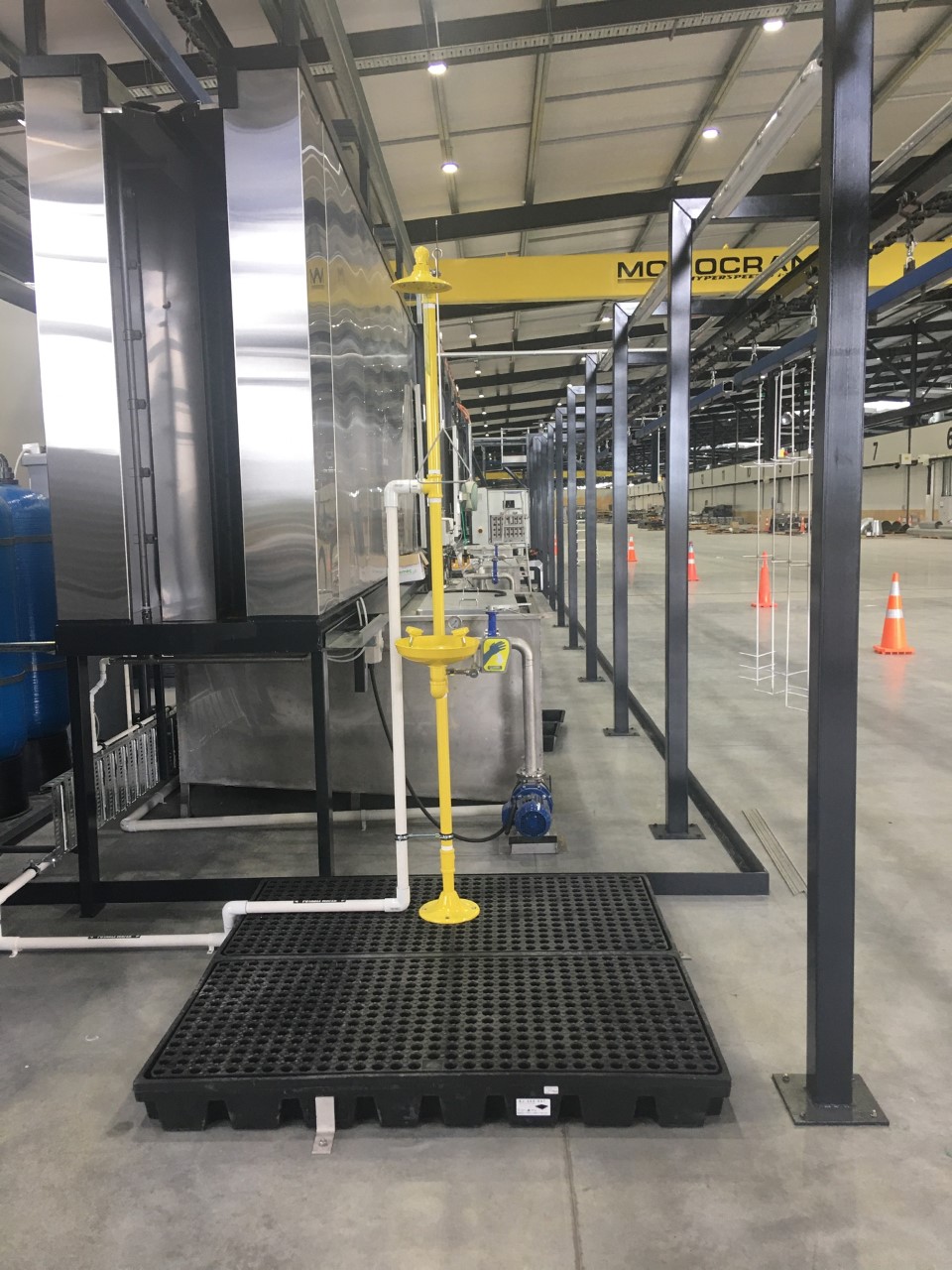 If you or your business are looking for dangerous chemical storage solutions, contact our team today to obtain a quote.